Iron Man, Thor, Spiderman, Hulk, and many more. Our collection of Avengers wallpapers features all of your favorite characters from the iconic Marvel franchise, including Captain America, Thor, Black Widow, and more. These wallpapers are perfect for creating a themed room, such as a home theater or game room. You can also use them to create a unique and exciting space for your kids.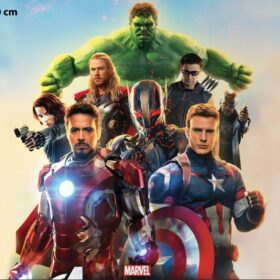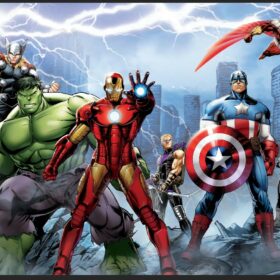 Our Avenger wallpapers are not only visually stunning, but also made with high-quality materials that are durable, long-lasting and easy to clean. They are also customizable to fit any size or shape of wall, ensuring a perfect fit for your space.
One of the best things about our Avengers wallpapers is that they can be used to create a variety of different looks and styles. For example, if you're looking for a more classic, vintage look, you might opt for a wallpaper featuring the original comic book artwork of your favorite Avenger. Or, if you're looking for a more modern, sleek look, you might choose a wallpaper featuring a more recent, cinematic interpretation of the same Avenger.
The Avengers wallpapers are perfect for a home theater or game room. Imagine having the iconic Avengers logo or a wallpaper of your favorite Avenger on your wall. It can be a great conversation starter and can also be a great way to show off your love for the Avengers.
At Evershine Walls, we also offer wallpaper removal services, so if you're looking to update your current wallpaper, we can help you with that too. Our team of experts will take care of everything from start to finish, so all you have to do is sit back and enjoy your new Avengers wallpaper.
In conclusion, superhero wallpapers are a great way to add some fun and excitement to your home. With Evershine Walls' wide range of designs and customizable options, you can create a space that is unique, inspiring, and truly one-of-a-kind. Whether you're looking to create a child-friendly space, a man cave, or a home theater, our superhero and Avengers wallpapers are the perfect solution. So why wait? Contact us today and take the first step towards creating your dream space!
Buy Online our range of Avenger Wallpapers.