Introduction:
Green is connected with nature, development, and renewal. Green color is recognized to bring balance into your home. Evershine Wall green wallpaper collection makes it simple to bring these refreshing hues into your home this year. Get motivated by the newest color tones as you learn how to beautify your home with green wallpaper
Benefits of Adding Green Wallpaper For Walls:
One of the most notable benefits that come with adding green wallpaper to wall surfaces is how easy it is to change up a room's look without undergoing costly renovations or repainting everything entirely. While painting may take days—or even weeks—of work and cost hundreds (if not thousands) of dollars, buying green wallpaper only requires minimal effort on your part as a homeowner. Additionally, should you ever decide to update this particular feature within the fate, all you'll have to do replace this inexpensive wall medium rather than invest in brand-new treatments that often speak louder financially than they do aesthetically.
FAQS
What are the benefits of the green wallpaper?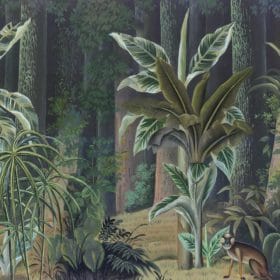 It emanates a feeling of health and tranquilly. This feeling of growth and tranquilly can be spread throughout the house by adding greenery. Choosing the correct botanical green wallpaper is a trendy and contemporary way to bring green to a space. A room can breathe fresh air thanks to any wallpaper that features plants, leaves, ivy, or trees.
How do I choose a wallpaper color?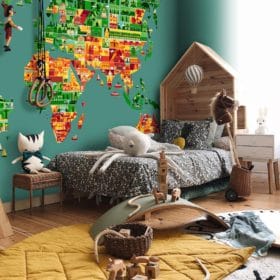 Choose patterns with cool-colored backgrounds, like green, to elongate a room and make the ceiling appear higher. Intense cold colours are vibrant and striking, whereas soft cool colours imply tranquilly. Reds, yellows, and oranges, sometimes known as warm colours, live up to their name and genuinely make people feel warmer.
Conclusion:
Adding green wallpaper is a quick and easy way to bring the beauty of nature into any home. From giving rooms an airy atmosphere and dramatically changing the look of your space to making spaces feel alive again and providing ample opportunities for customization, adding green wallpaper can help give your home something special without breaking the bank. Whether it's placing small sections in corners or covering entire walls with bold prints, shoppers have plenty to choose from depending on their preferences. With careful planning, finding what suits you best will be made simple—and updating your house won't become expensive either. So take some time today to see how attractive but affordable GREEN WALLPAPER FOR WALLS could benefit you too!